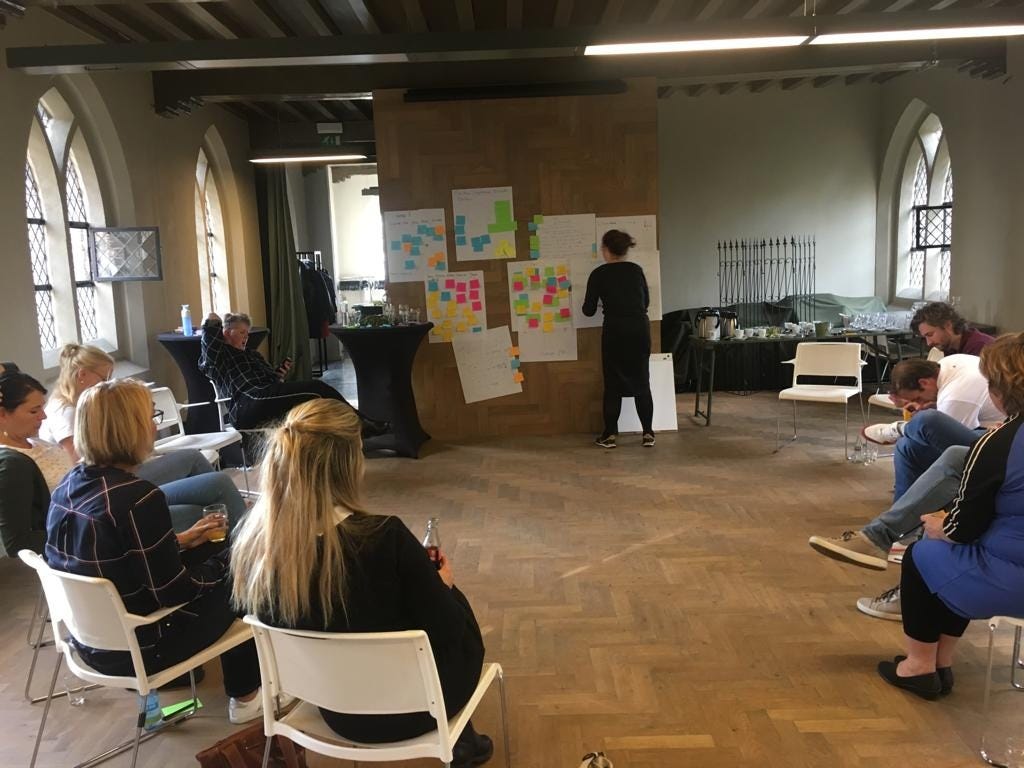 About BeyoUnd Transformation
BeyoUnd is not misspelled. It is intentional. It stands for going beyond with U.

BeyoUnd works with U on growth. Business growth and personal growth.
There is always more potential.

BeyoUnd works with U on the '#how to' within four areas.

Make strategy happen
A strategy is your definition of success. It informs teams on what needs to get done. Execution is the result of everyday decisions and actions made by everyone. It requires a transformative approach to reach your North Star.

Make culture work
A company culture refers to collective behaviour. Behavioural patterns can hinder or help your growth. You need to work on company culture to make it work. It requires a systems approach to grow as a collective.

Make leadership scale
The purpose of leadership is to help others lead and to develop more leaders. It requires leaders to set an example by learning first and unlearning fast. It requires a programmatic approach to learn as leaders.

Make HR about people
Your people are your business. Your people strategy is your business strategy. Where people thrive, performance thrives. Your HR team needs thrive and lead the way. It requires a strategic approach to create a thriving community.

Where personal potential becomes reality, business potential is turned into results.
Make business and personal growth connect.
Who is behind BeyoUnd Transformation?
My name is Miranda Berkhof. My experience has its roots in strategy consultancy.
It is there that I discovered my passion for transformation, where strategy & culture and leadership & HR need to meet and evolve together.

After 8 years at McKinsey, I moved into industry to lead a transformation from start to finish.
It was with great honour and with a big smile on my face that I lead the digital transformation of a well-known e-commerce company as an executive.

It is there that I learned that a business transformation is always personal. Change succeeds or fails based on the level of learning in leadership. Leaders need to set and keep the pace in both learning and execution, and they need to do this as one team.

My personal drive has always been to turn potential into reality.
Where personal potential becomes reality, business potential is turned into results.
Miranda is one of those unique people who is a very strong leader, with both a high IQ as well as a high EQ. She is an outstanding motivator who goes all in herself with an energy level that is infectious to the entire organisation. She has proven to be able to lead a broad portfolio of activities, has a high drive for results and consistently delivers. She is direct and open and will keep her peers and the organisation accountable for what they signed up to deliver. She is often the one who points out 'the elephant in the room' and as such is not afraid to initiate uncomfortable discussions when they are needed. She is hungry for self-development and learning and this makes her highly versatile in any organisation. On top of that, she is fun to work with and has a terrific sense of humour. – Piet Coelewij, former CEO wehkamp, non executive director Jumbo, BCA marketplace, Display data
I would describe Miranda as a power woman pur sang. She is gifted with the talent to see people's full potential and she will definitely not hold back to help them achieve this. In her communication, she is direct and not afraid to state the unpopular or uncomfortable truth. At the same time, you know she cares and is motivated only by doing the right thing for people and business. I have experienced that her approach really helped me to exceed my own (mental) limitations in order to accelerate the growth and impact of myself, and my team. Her way of working is characterised by an unstoppable intrinsic motivation to get things done, the confidence that it will work and the willingness to work alongside her people. She inspires many to follow her lead and bring their best to contribute to the whole of the task at hand. – Peter Gerritsen, Founder Premium Positioning
The first time I met Miranda, I encountered a powerful business woman that knew exactly what she was looking for. She was not afraid to be very clear about this, and at the same time she listened with great care to what was important for me. She was one of the reasons for me to make the switch from G-star to Wehkamp, and from the start she offered me a platform to grow and add value to my team and the company. Her leadership is direct, full of humor, and she is very intelligent. The entire commercial team was happy to follow her lead. She sets the bar high for herself and others, resulting in a steep learning curve for the entire organisation. I look forward to work together again and I hope others get the change to experience her leadership as well. – Daniel Gonzales, Head of Wholesale & Alliances at Hunkemöller
Miranda shows an enormous drive to get things done and she can very easily adapt to all new types of situations, both in terms of content and people. With Miranda on board, you are guaranteed to move initiatives faster to a success. She can move rapidly from vision to strategy, all the way to execution and implementation. She connects easily with people on all levels in an organisation, is able to take people along and motivate them to go beyond. As a leader, Miranda really stands for her people and is known for her passion and expertise in people development. She is able to maximise people's performance and growth. I was able to achieve a steep learning curve on vision, content and leadership, which I would never have achieved without her. – Joris Stigters, Digital Leader at Amazon
A successful transformation of your organisation doesn't just happen - you need to lead it. Transformation needs to be the responsibility of every leader in the organisation. Involving Miranda in your business transformation gives you and your teams the best opportunity to navigate this disruptive era successfully. Miranda's experience and thought leadership provides a powerful and refreshing approach to what needs to be done in your organisation from Plan to Execution; from debating the future to just make real daily business impact. Miranda is dedicated and focused on getting to a learning mindset of the entire organisation and especially leadership. When we did not know what next step to take for the highest impact, I learned from Miranda that 'just go and do' is the best step you can take over and over again…. - Marieke van Loo, Digital Transformation Manager at Monuta
Miranda is one of the most driven and inspiring leaders I had the pleasure to work with over the past few years. She has proven to be a true change leader, where she was the driving force behind many teams and large transformations. With a strong focus on impact and result - but never undermining the importance of the people who drive and deliver this - she is capable of moving mountains with teams. She is open, direct and brings out the best in people through a unique combination of radical candor and real guidance, both on a business and personal level. She helped me to overcome some of the challenges I had for years. She is a traveler: looking for new & inspiring journeys, and a mapmaker: always knowing the right direction - all combined in one person. If you are on a journey, I would advice you to take Miranda along with you. - Danique Wiggers, Manager Merchandise at Bol.com
To me, Miranda is the most inspiring person I have ever worked with. I think her best quality is that she always has constructive and stretching feedback for everything and everyone. She sincerely cares about people and that's what everyone who works with her will notice. She gives real attention and she truly listens to what you have to say, even beyond the point you understood it yourself. Miranda is a super fast thinker and very analytical, while also being very creative. That is why she is so good in designing a complete transformation but also knows exactly how to execute it. She brings all the pieces of the puzzle together and knows what to do and when. Next to this she is a great leader because she always wants to help people learn and help them to be their best selves. Would work with/for her again any day! - Emma Ploeger, communicatie adviseur bij Unive
I have worked with Miranda on a number of business transformations and have experienced the tremendous value she consistently delivers to the organisation and the people involved. Her excellent combination of IQ and EQ and broad experience in business transformation makes her a perfect partner to architect a large scale transformation, realise a significant culture change, and coach the individuals who are part of that transformation, from shop floor teams to executive board level. In doing so, Miranda continuously balances the big picture with relevant details and the hard performance side with the soft people side of transformation. As a consequence, the organisation will simultaneously achieve profound performance improvements, sustainable culture changes, higher performing teams and more engaged employees - Martijn Bonte, COO Kramp Group
Miranda is an extraordinary people leader who sees only the real potential in people. She has build high performing teams from scratch, pushing the boundaries of their capabilities. With her leadership skills she makes sure every step of the way is a true learning experience for everybody involved. She is not afraid to ask the difficult and sometimes confronting questions which brought teams and more important, people, closer together. My biggest lesson from her is to push my own limits and seek out my potential or in her words: "when you are pushed beyond your limits, call it learning, then there are no limits". She is a kind-hearted, trustworthy person who is, most of all, fun to work with. - Karim Gharsallah, Global Head of Talent at Recruitee
Miranda's drive and focus on results, efficiency and her helicopter view on the overall business will impact both the business and the people in the business. Not only will she set a direction to follow, but she will also be the one who motivates the people around her to get the job done and get it done together. When you work with Miranda you will know that she exactly says what she thinks and that she will make everyone leave the room moving in the same direction...which is always forward, very effective without any delay. When challenges arise she is the first to start the problem solve and her fast decision making skills result in delivering on her promises! - Damla Kartal, Senior Marketing Manager Benelux at Amazon